Introducing Canvas, A Full-Screen Ad Experience Built for Bringing Brands and Products to Life on Mobile
With the digital world becoming ever more dominated by mobile use it should come as no surprise to learn that more than 85% of all Facebook traffic is on mobile these days. One of the areas we often see clients struggling with is their ability to deliver great looking and effective content designed for mobile. Facebook Canvas is a cost effective way to address this common problem as Facebook keeps the user within the Facebook App while delivering content optimised for mobile, with users commonly spending more than 45 seconds digesting this content.
So why is canvas so good?
– Canvas loads up to 10 times faster than your website
– Create a great looking 'digital brochure' without the need for new web pages
– Incorporates High Res imagery to showcase beautiful brands and products
– Include multiple products and different calls to actions to target a wide range of customers
– Tell a story with progression as the user scans the canvas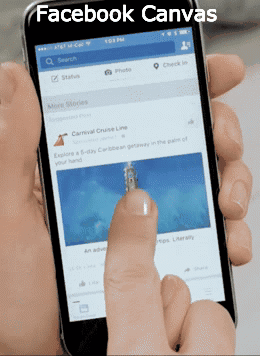 CANVAS EXAMPLES
As Canvas loads within the Facebook App you need to open the Facebook App on your phone and search CURVE SOCIAL CANVAS PREVIEWS. This Facebook page of ours showcases many examples from different industries so you can get a feel for how the product works.
Get in touch today to find out how Curve Social can help build a Facebook Canvas campaign for your next product/sales launch.
Australian Office – 1300 98 94 99
NZ Office – 09 482 1696
Or send us an online enquiry through our website below;
️ www.curvesocial.com.au

 www.curvesocial.co.nz